Masha Danki, Thank You, Gracias, Dank U  !!
Aruba Animal Shelter ta Gradisi tur nos Sponsornan di Dog Show "Criollo"
Villa Floralina (Patricia y Carlos), Flying Fishbone, Martijn Trading (Bryan), Diario(Miguel),
Bon Dia Aruba (John), Tele Aruba "NosMainta"  Faritah y Siomara, K9 Unit Kia Dogs and More,
Fidel y Gabriela, Arugas, Sams by Manolo, Marriott, La Cabana, Radisson, Aruba Trading Company,
TEC, AMC unicon, Kooyman, The Westin , Pet Boutique at Paseo Herencia, Madam Jeanette, Aqua Grill, Amazonia, Mantuanos, Hyatt,Idefre, Amy Beaudoin, Arubras (Celina)
T.G.I. Friday, Gianni's, Dog Lovers, Sushi Ya, Gari Wasabi, Top 1 Toys, Wine & Dine, Setar, Talk of the Town, Balashi, Cherry Berry, Bula Surf Shop, Senor Frogs, Blossoms, Treasure Box, Super Food,
Kiekebooh, Renaissance (Aquarius), Sunshine Partyrental, H.K. Tailor
Garage Centraal – Rene cu a yuda nos muda tur cos
"Reaperz  Syndicate M.C." e  BBQ station,  Jury : Tito Lacle, Clarice Holman, Huub Hammerstein, Kathy Andreottola y Desiree Quant
Un Danki Special na tur Voluntario  !!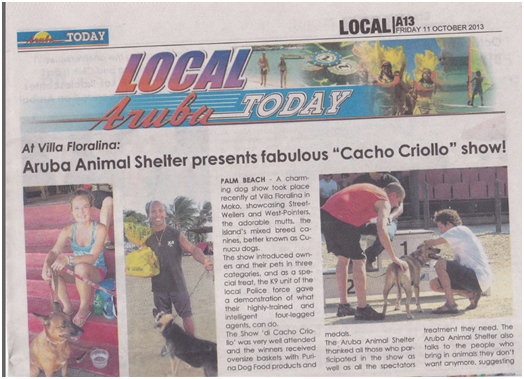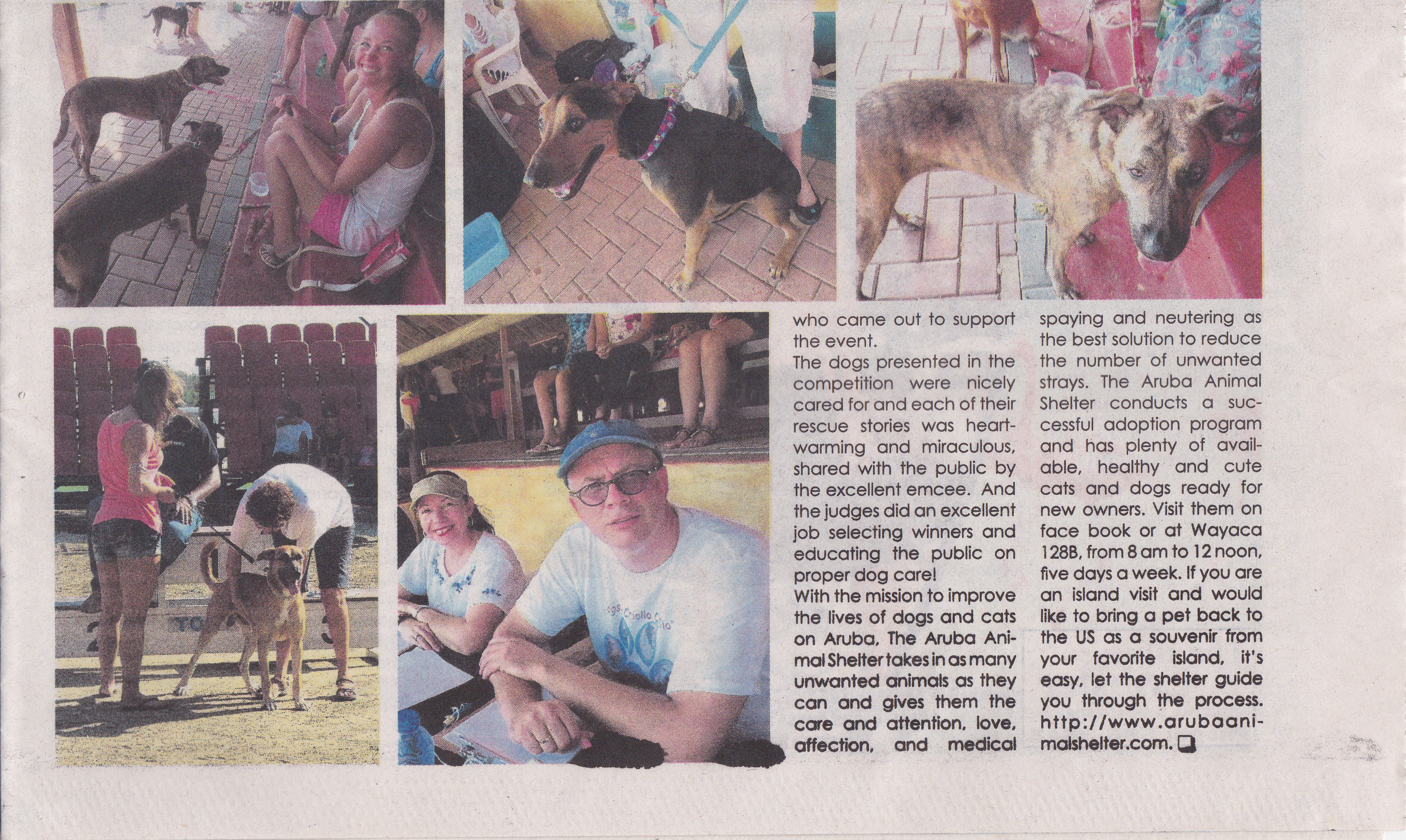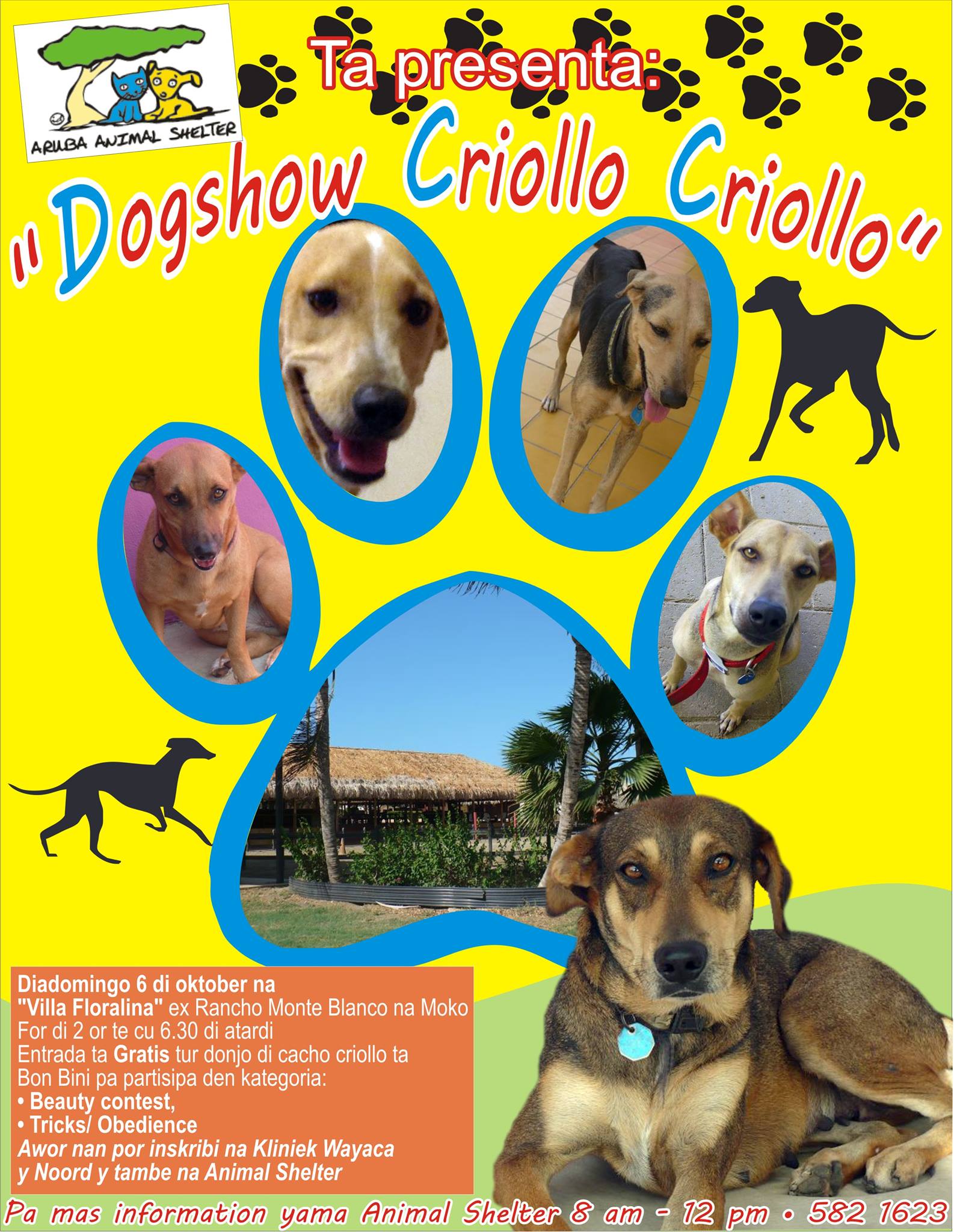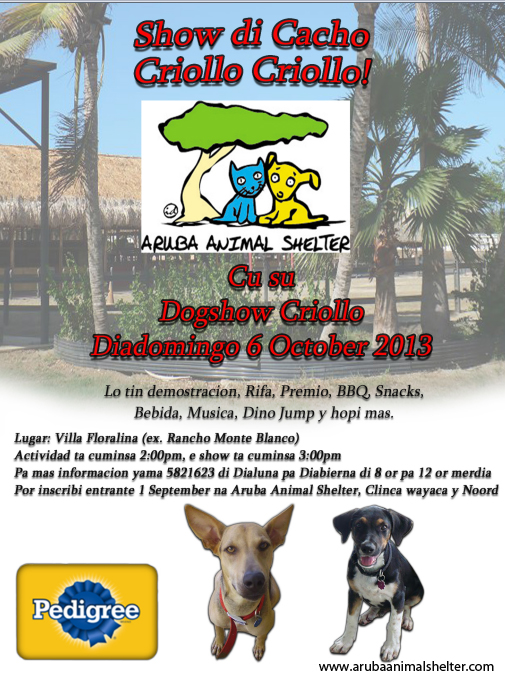 During the "Dogshow Criollo", dia di 6 oktober 2013, the KIA K9-unit and dogclub "Dogs and more" will give a demonstration with policedogs at 5 PM.